Model

RT73

RT95

RT99

RA25

Mode

DMR Digital & Analog

Analog

Analog

Analog

Frequency

VHF:136-174MHz

&

UHF:400-480MHz

EU version:

VHF :144-146MHz & UHF:430~440MHz

orUS version VHF:144-148MHz & UHF: 430~440MHz

VHF:136-174MHz

&

UHF:400-470MHz

VHF:144-146MHz & UHF:430-440MHz

Or
GMRS

TX: 462.5500-467.7250MHz RX:462.5500-462.7250MHz

Band

Dual Band

Dual Band

Dual Band

Dual Band /GMRS

Output Power

5-20W

25W / 15W / 5W

VHF:L:25W /H:50W; UHF:
L:25W/H:45W

UHF: ≤18W VHF: ≤20W GMRS:≤20W

Channels

4000 (250 CH / Zone)

200

16*N groups( N≥1)

UV:500
GMRS:30

Rated Voltage

13.8V DC ±15%

13.8V DC ±15%

13.8V DC ±15%

13.8V DC±15%

Antenna Connector

SL16-J

SL16-J

SL16-J

SL16-J

Dimensions(WxHxD)

121.5*65.5*42.5mm

124*39*163mm

160*115*40mm

124x101x36mm

Weight

323g(main unit)

640g

840g(main unit)

450g(main unit)

Frequency Stability

± 1.5ppm

±2.5ppm

±2.5ppm

±2.5ppm

Main features

1:Digital & Analog mode combined, support Mixed receive andVFO;

2:1.77 inch TFT LCD display(Diagonal length);

3:Built-in GPS;

4:Mini,high power;

5:PC software and microphone programmable

6.20000 call groups.200,000+contacts(complete worldwide database from DMR-MARC).

7.Single call,group call and all call

1:Dual Display /Dual Watch;

2:180 degree rotatable TFT LCD display;
3:Amateur mode and professional mode,

4:DTMF/5 Tone /CTCSS/DCS Scan/Squelch;

5:VFONumeric keyboard Programming and PC Programmin;

6:LCD brightless control
7:Six definable keys;

8:Can be extended to 136-174MHz and 400-490MHz

1:Support network: 2G, 3G, 4G, 5G, WiFi,CDMA,GSM, etc.

2:Full function mobile app operation;

3:Full function mobile app operation, no need for professional frequency writing;

4:Fast automatic team building;

5:Network relay function;.

6.No need to insert card, free forever, and can also realize the function of public interphone;

1:VFO/Channel mode switch;

2: 1.44 Inch TFT display;

3:UV dual band 500channels,

GMRS 30 Channels, identified by editing name;

4:Amateur and professional mode optional(only available in UV Dual band)

5:CTCSS, DCS, DTMF, 2Tone, 5Tone setting for each single channel;

6:Tone Pulse frequency;

7:Compander function;
Hot Sale! DMR Digital Mobile Radio Retevis RT73 Mini Digital Car Radio Station GPS UV Dual Band 20W TFT Screen with Hand Microphone + Cable

Note:
1.The RT73 package includes a programming cable.
2. 25 kHz channel space is not available in USA because of FCC Narrowbanding Requirements.
If you want to upgrade RT73 firmware or check what version of firmware your RT73 is in now, please watch the instruction video at the top, any question, be free to contact us.
Here are the latest Firmware and Software , Click and download,faster.
This new version of firmwaresupports to upload 300,000 DMR contacts,repairs the clock delay function resulting in unsuccessful transmission of the analog APRS,adds APRS icon,fixes manual switching channel issue:
RT73_ FW_20210731 (New)://bit.ly/3geWcJ4
This version of software supports to upload 300,000 DMR contacts:
Feature:
·200,000+contacts (complete worldwide database from DMR-MARC).
·20,000 call groups.
·250 text messages.
·4000-channel (250CH/Zone, 16 zones)
·Built-in GPS.
·True 2-time slot which allows for 2 talk paths one a frequency.
·Dual band, dual display and dual standby.
·AMBE vacoder, Crystal sound quality.
·Super small size, power up to 20W, be convenient for installation on any devices.
·Definable keys to ensure shortcut operation.
·Built in broadcast FM radio.
·APRS function(Analog and digital; available after upgrading the latest firmware version)
Technical Parameters:
General

4000 (250 Channels / Zone)

Operating temperature range

Transmitter

±2.5dB@12.5kHz / ±5.0dB@25kHz

-40dB@12.5kHz / -45dB@25kHz

Conducted/radiated emission

-36dBm<1GHz / -30dBm>1GHz

Adjacent channel selectivity

-60dB@12.5kHz / -65dB@25kHz

RECEIVER

Digital sensitivity(5% BER)

Adjacent channel selectivity

60dB@12.5kHz / 65dB@25kHz

-40dB@12.5kHz / -45dB@25kHz
Package includes:
Introduction to RT73 DMR Digital Car Mobile Radio
RT73 is new model of DMR digital car walkie talkie.Compared with RT90, similar functions,but the size of RT73 is more small,convenient,and cost-effective,best option for vehicle radio communication hams,suitable for car race,taxi,trucker,offroader,self-driving tour,community patrol,vehicle distribution,etc. Know more about it from here.↓
FAQ:
1. Q: Could RT73 upgrade firmware?
A: Yes, please watch demonstration video at the top,any question,please contact us.
2.Q: How to download programming software and the latest firmware?
A: Click these link to download:
RT73_CPS_V9.1.175://bit.ly/3opVV7w
3.Q:How to upload 200.000 DMR contacts into Retevis RT73?
A:Post from VK group ://bit.ly/2Ji9Huv
Post from Face-book group://bit.ly/3rrJiLJ
4.How to Change the PowerOn Logo on Retevis RT73?
Russian ://bit.ly/2LIiFBQ
English://bit.ly/3i4opSy
5.How to Set Up Retevis RT73 Digital APRS?
Russian://bit.ly/2MhnLoU
English://bit.ly/2MenbZn
6.Q: RT73 encryption is compatible with RT3S?
A:No
7.Q:Does RT73 have Channel Roaming?
A:Yes
8: Q:What's the chip of RT73?
A: C7000
9:Q: What could I do,when I delete channels in one zone,but other zones change?
A:Maybe software bug,please use the latest programming software.
10:Q: Why part of inputted contacts doesn't show ?
A: Please upgrade the latest firmware to solve it.
11:Q:Why the time and volume failed to save?
A:After setting volume and time, you need to press volume confirm button to save.
12:Q:What kind of antenna is in the package?
A: GPS antenna,for receiving GPS signal.
13:Q: What's TX power ?
A: High: 20W Low:10W
14:Q:RT73 programming cable?
A: C9018A
15: Q: No DMR? No crossband relay function? No APRS function? No SDR?
A: Please upgrade the latest firmware to solve it.
16: Q:We can switch channel by handy microphone?
A: No, handy microphone can't be used to switch channel.
17: There have 4 CH modes for select. Analog is for only Analog mode. Digital is for only Digital mode. A&D,TX-A means it can receive both analog and digital, but will transmit to a Analog channel. and A&D,TX-D means you can receive from analog and digital channels, but transmit to digital channel.


18: The ad claims the radio holds 200000+ contacts,but the software says 2000 contacts. which is it?
A: Yes, The RT73 support to upload 200,000 Digital Contacts before June.9.2021. On the firmware June 10 2021 version, we have updated the digital contacts quantities to 300,000.
About the 2000 contacts. it is for the contact list (Group Call or Private Call) which you can edit in the CPS.
19: Can you turn down tx pwr below 5w with cps?
A: you can select the high or low power in the cps, which the high power equals to 20W, and the low power equeals to 5W.
20: Does this have channel roaming?
A: Yes, It has roaming function on RetevisRT73. and normally, the roaming function used on repeater channel. You can set the roaming setting in the CPS.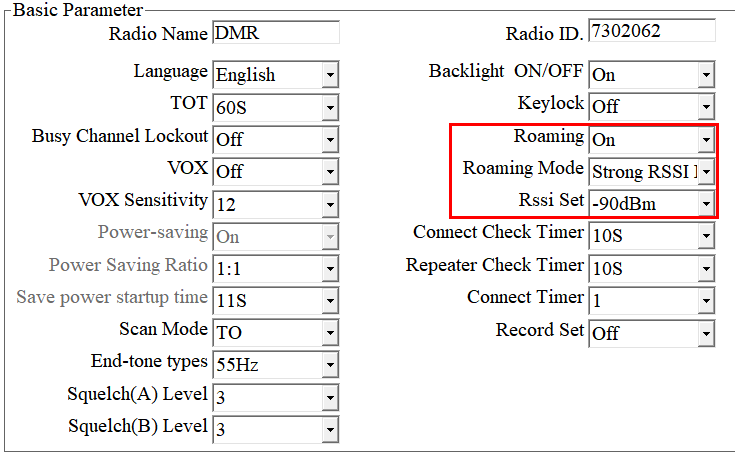 21: Does this have promiscuous mode in dmr operation?
A: Yes, You can set a customized key to promiscuous. then if you need to use this feature, you can turn it on via the preset button.
22: Does the RT73 has APRS feature?
A: Yes, we added APRS feature in the firmware on March 29.2021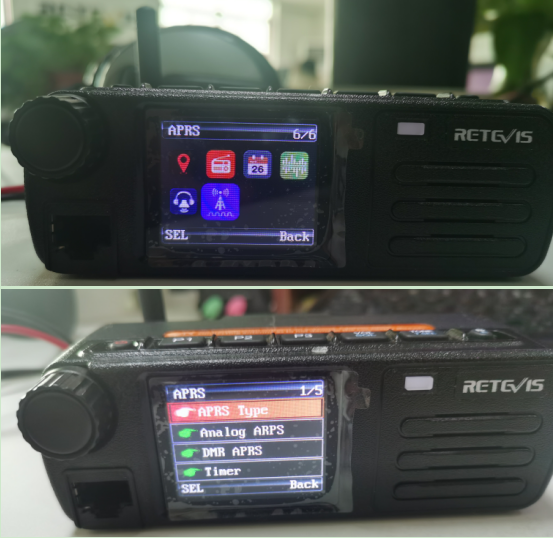 and at the same time, update the CPS setting.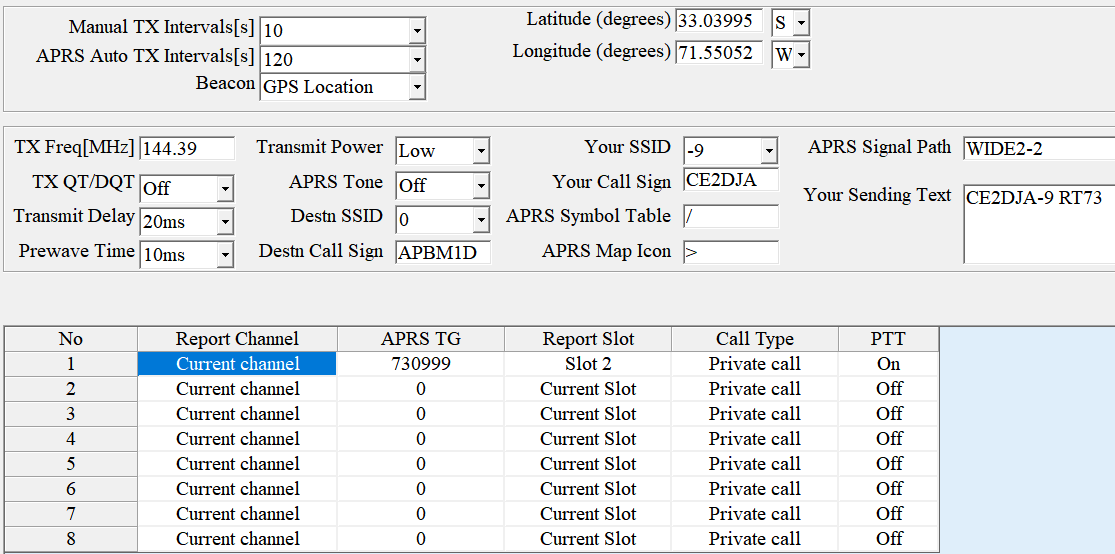 23: Does this radio have a superheterodyne or direct conversion receiver?
A: RT73 use the mixed receiver, when receiving it use the superheterodyne receiver. but transmit on direct conversion receiver.
24: is the radio cross band repeat capable analog to analog or dmr to analog?
A: RT73 does not support cross band repeater.